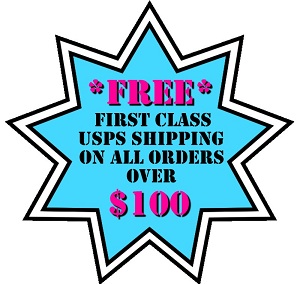 Shipping: I am located in West Bend, WI. At this time I do not offer International Shipping, sorry for any inconvenience. Most items are shipped within 1-2 days (often times sooner) through USPS. A shipping confirmation email will be sent to you once your order has been shipped out. Most items will contain a tracking number that will be emailed to you with your shipping confirmation. I do my best to apply fair shipping costs to each order and try to keep up with the increasing shipping costs through USPS. I charge a low, flat rate shipping charge to be fair to all customers, this means that the shipping rate is the same no matter what the quantity is. I also offer FREE first class shipping on all orders over $100.
First Class (4-6 business days - estimated) Without Insurance = $4.49
First Class (4-6 business days - estimated) With $50 Insurance = $7.49
*FREE First Class Shipping on all orders over $100*
Priority (2-3 business days - estimated) Includes $50 Insurance = $10.49
Express (1-2 business days - guaranteed) Includes $100 Insurance = $35.49
*If you need to purchase more insurance please send me a message and I will send you a separate invoice for it.
Shipping days do not include production time. Shipping process all depends on how fast I receive payment and everything I need to process your order. For faster shipping please check your email often after you have placed your order in case I have a question about your order. Please make sure I have a valid email address for you and always check your junk mail or spam folders as well as your inbox. You can add my email address to your contacts so you will receive all of my emails in your inbox: orders@custominfinitycreations.com If I do not receive all the requested information your order will be delayed until I can reach you! Please be patient with the shipping time as each item is made to order. If you would like your order within a specific time please note that on order form at checkout as I am always willing to accommodate any special requests. Select the correct shipping method at time of checkout in order to receive your order in time. Refunds are not given for post office delays.
Shipping for Edible Images: Edible images are shipped in sturdy cardboard envelopes and Do Not Bend is written on both sides to ensure that your topper is not damaged during shipment. Your edible image is sealed in a plastic zip bag and a sheet with detailed instructions and tips on how to apply your topper is included. Post office delivery times will vary and we cannot be responsible for postal delays. Refunds are not given if your order is not received by your party date. I have been doing this a long time and sometimes there are unexplained post office delays, especially around any postal holiday, so please take that in account when you choose your shipping method. Shipping dates are estimates only and not guaranteed. The only service the post office will guarantee is Express Mail, and USPS suspends all guarantees between December 22-25. We know shipping is expensive, and we do not want you to pay extra shipping priorities if you do not need it, however please do not choose something cheaper and expect delivery on time. If your party is important to you, choose the shipping method you need. Remember, plan for the unexpected! Refunds are not given for damages caused by USPS so please add insurance to your order
Damaged or Undelivered Items: Please understand once your package has been scanned and in the possession of USPS, I have no control over the operations or efficiency of the post office. I can only provide you with the tracking number for your order. I am not responsible for items lost, stolen, undelivered/delayed or damaged by the postal service. If you receive a damaged item by the postal office make sure to file a damage claim with your local post office. I am not responsible for undeliverable items so please double check the shipping address you put on the order form as orders will be shipped to that exact address. Please contact USPS in regards to lost, stolen, damaged, or delayed packages to report or file a claim 1-800-ASK-USPS (1-800-275-8777). Refunds are not given for lost, stolen, undelivered/delayed or damaged items by the post office. Items will not be replaced for free. If you would like to replace the lost, stolen, undelivered/delayed or damaged item you will need to repurchase it.
Contact information: Email me anytime at orders@custominfinitycreations.com